About the department
We treat functional diseases such as hearing impairment, dizziness, and facial palsy, allergic rhinitis, infectious diseases such as cold, tonsillitis, sinusitis, and otitis media, diagnose mass in the head and neck area, and also respond to the head and neck area excluding the brain and eyes such as otorhinolaryngological diseases caused by dental diseases.
Common diseases treated
sudden hearing loss
dizziness
facial palsy
allergic rhinitis
acute and chronic sinusitis
tonsillitis/laryngopharyngitis
head and neck tumors
others
Director of the department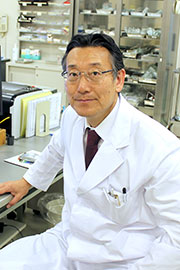 Specialty/qualification
Board certified otorhinolaryngologist of the Japanese Society of Otorhinolaryngology - Head and Neck Surgery
Board certified instructor and hearing aid consultant of the Japanese Society of Otorhinolaryngology - Head and Neck Surgery
General clinical oncologist (by JBCT)
(JBCT: Japanese Board of Cancer Therapy)
Board-certified head and neck surgeon of the Japan Society for Head and Neck Surgery
Board certified instructor of the Japan Society for Head and Neck Surgery
Designated physician for intractable diseases
The doctor who was granted the designation pursuant to the provision of Act on Welfare of Physically Disabled Persons Action15(1)
Occupational physician certified by the Japan Medical Association
Characteristics of dental care
1. Sudden hearing loss
Early diagnosis and treatment are essential. Treatment with steroid and drip infusion of thrombolytic agent for 6 consecutive days
2. Facial palsy
Treatment with drip infusion of steroid. Drug therapy with vitamin B12 and other oral medicines. Prognosis assessment.
3. Dizziness
Testing for the cause of dizziness and treatment
4. Nasal allergy
Allergy antigen test. Treatment with oral medication and nasal drop. Sublingual immunotherapy for cedar pollen. Inferior turbinate mucosal laser ablation.
5. Acute sinusitis
Treatment with drip infusion or oral administration of antibiotics. Irrigation of the sinus
6. Chronic sinusitis
Conservative treatment with nasal procedure, nebulizer, and oral medication. If these treatments are not effective, endoscopic sinus surgery is performed.
7. Tonsillitis/laryngopharyngitis
Treatment with oral administration or drip infusion of antibiotics after testing causative bacteria. Inhalation therapy. Incisional drainage if an abscess is formed.
8. Head and neck tumors
Examination by palpation, visual inspection with a fiberscope, and detailed examination with echography, CT, or MRI. Cytology/histology.
Efforts for state-of-the-art dental care
We will conduct minimally invasive examinations and endoscopic procedures.
In the case of malignant tumor of the head and neck area, we will refer to a medical institution where intensity modulated radiation therapy (IMRT) or heavy ion radiotherapy is performed considering functions and esthetics.