About the department
In Prosthodontics, we provide treatment with covering (crown), etc. for teeth that have undergone root canal treatment due to major dental caries. We also fabricate bridges or dentures for the loss of tooth/teeth to restore occlusion. We will propose a prosthetic method suitable for each patient based on the comprehensive examination and diagnosis of the inside of the mouth.
Facility certified by academic societies


Certified training facility (A) of the Japan Prosthodontic Society
Certified training facility for specialists of the Japanese Society for Temporomandibular Joint
Certified MG training facility of the Japanese Academy of Sports Dentistry
Certified training facility of the Japan Association of Oral Rehabilitation
Common oral diseases treated
Dental caries
Missing tooth
Bad occlusion
Temporomandibular joint disorder
Metal allergy
Director of the department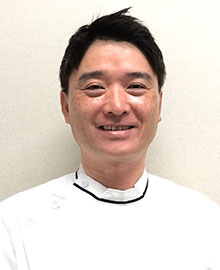 Specialty/qualification
Board certified specialist and instructor of the Japan Prosthodontic Society
The accredited dentist of the Japan Academy of Esthetic Dentistry
Denture specialist
Satoshi Komasa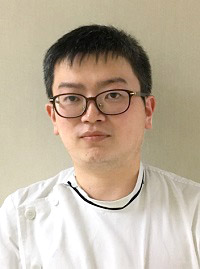 Specialty/qualification
Board certified specialist of the Japan Prosthodontic Society
Board certified dentist of the Japan Association of Oral Rehabilitation
Dental materials advisor of the Japanese Society for Dental Materials and Devices
BPS Dentist
Denture care meister of the Japan Denture Care Society
Chief Dental Clinician
Mayu Yamamoto
Chief Dental Clinician
Daigo Sakai
Characteristics of dental care
1. Treatment for major dental caries
A large dental caries may infect the neural tube in the root of the tooth. In such cases, nerves need to be removed. When the nerves are removed, the tooth becomes brittle and is easily broken. In order to prevent it, a strong base is placed in the tooth and a crown is fabricated. In our department, we provide a treatment that requires preparation of a base and a crown. The shape of the base is trimmed by grinding, the tooth mold is prepared, and a crown is fabricated. We have introduced the CAD/CAM system to fabricate crowns by digitally measuring tooth shape and automatically carving out of a tooth color block. Since some bases and crowns are covered by the health insurance but the others are not, we will start the treatment after talking with patients about the best option depending on their oral condition.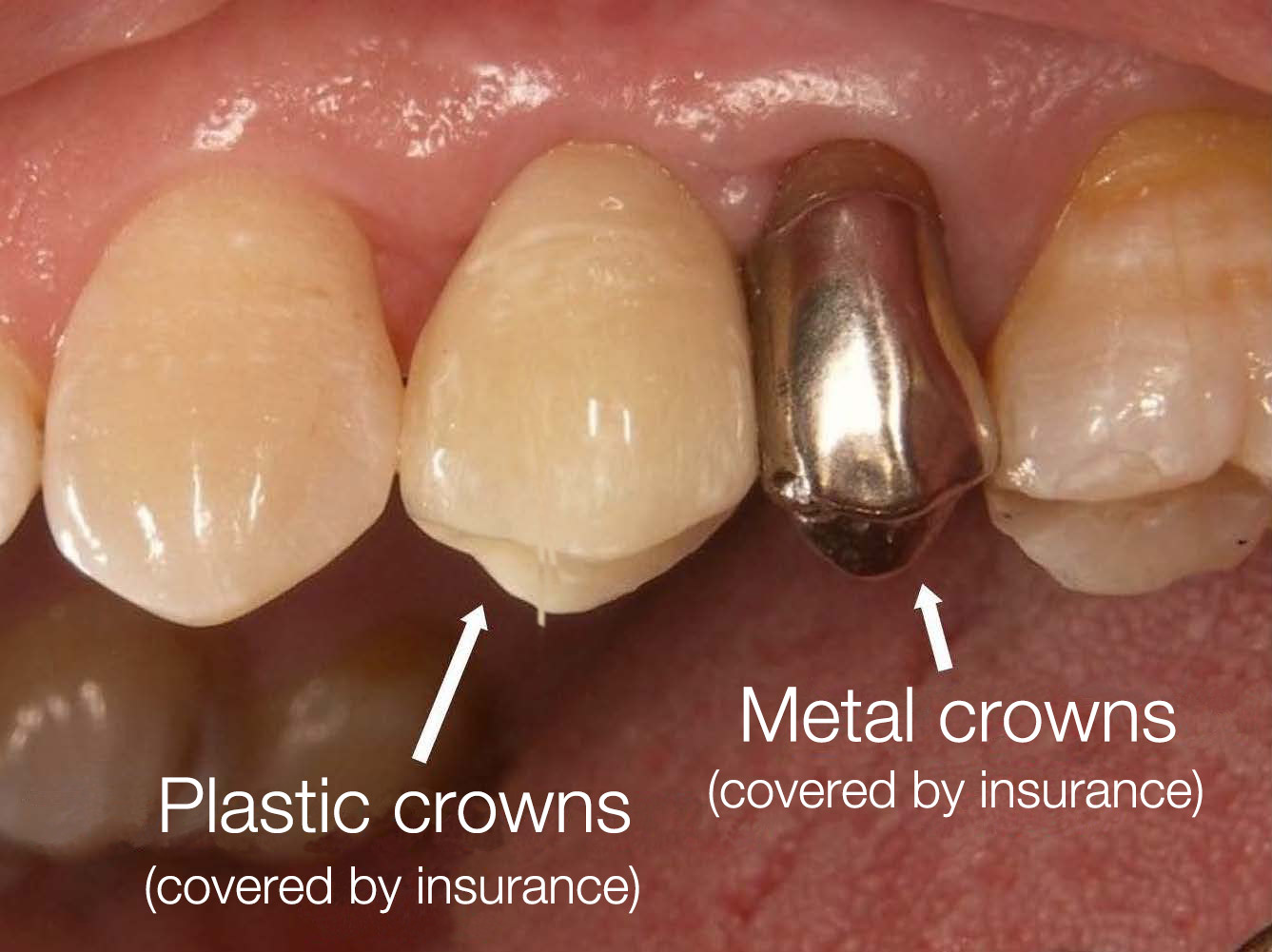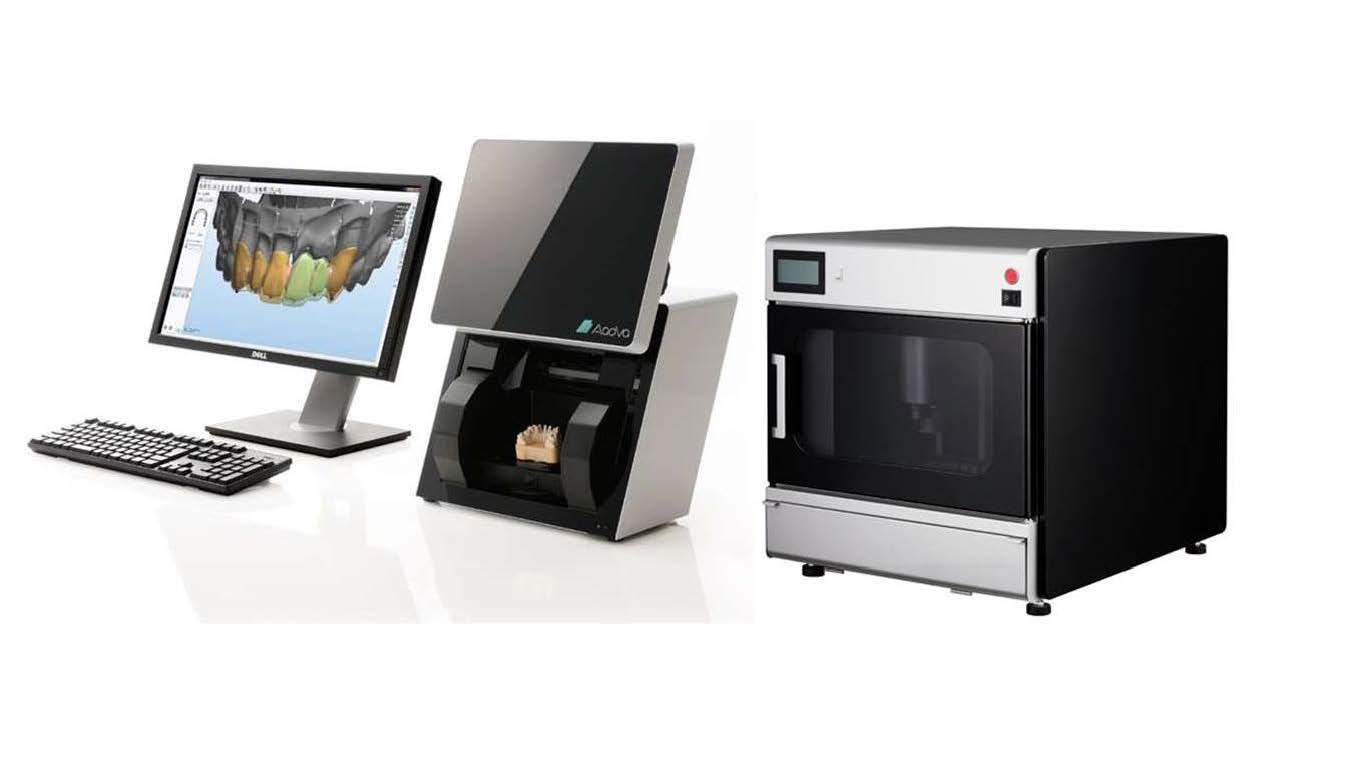 2. Missing tooth
A bridge to connect crowns, partial denture, or full denture are fabricated to make up for a missing tooth site. Crowns are basically not removable, but the dentures are removable. We comprehensively examine the site of missing tooth, number of missing teeth, and status of remaining teeth and determine which device is indicated.
When bridges and dentures are used for long time, their materials may degrade or incompatibility or damage may occur due to lesion of supporting teeth. In such a case, we repair them or make a new one.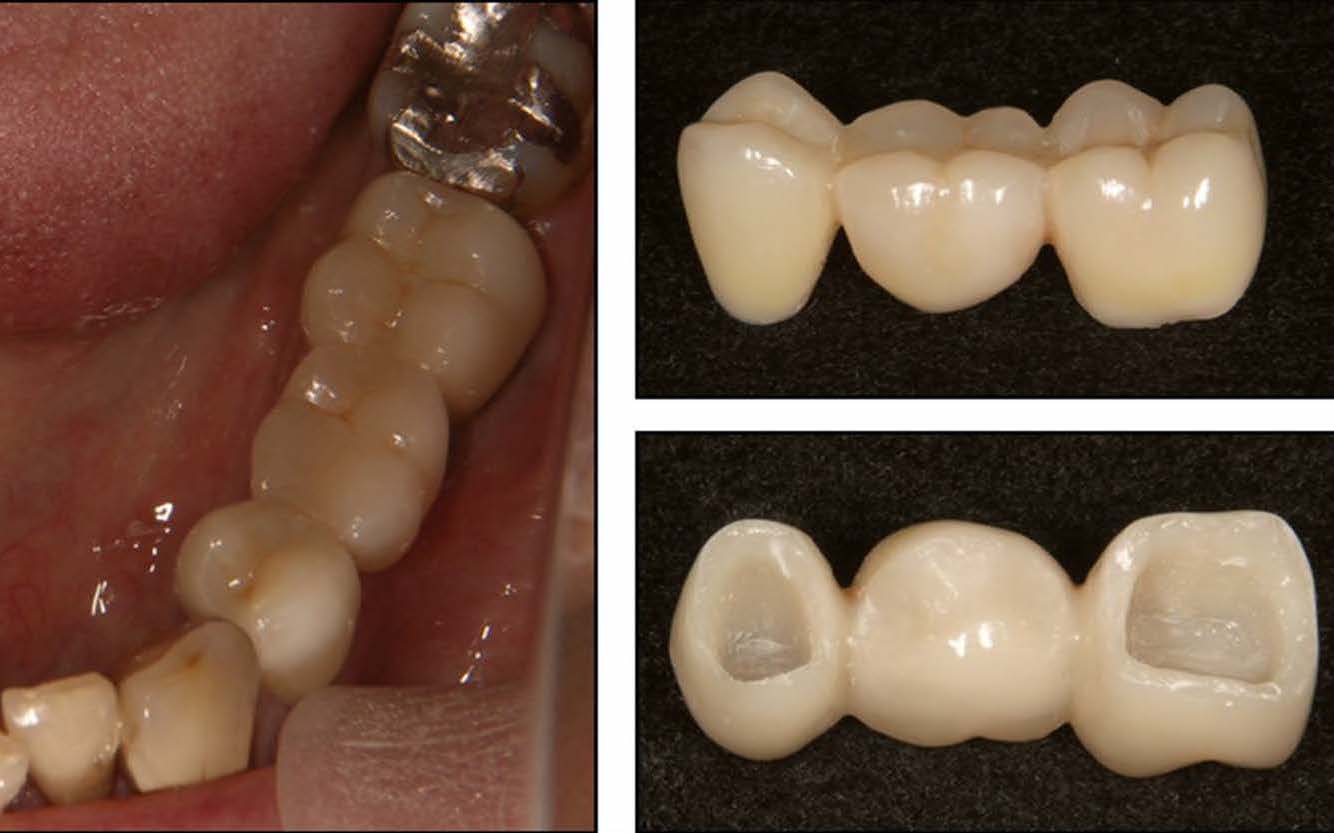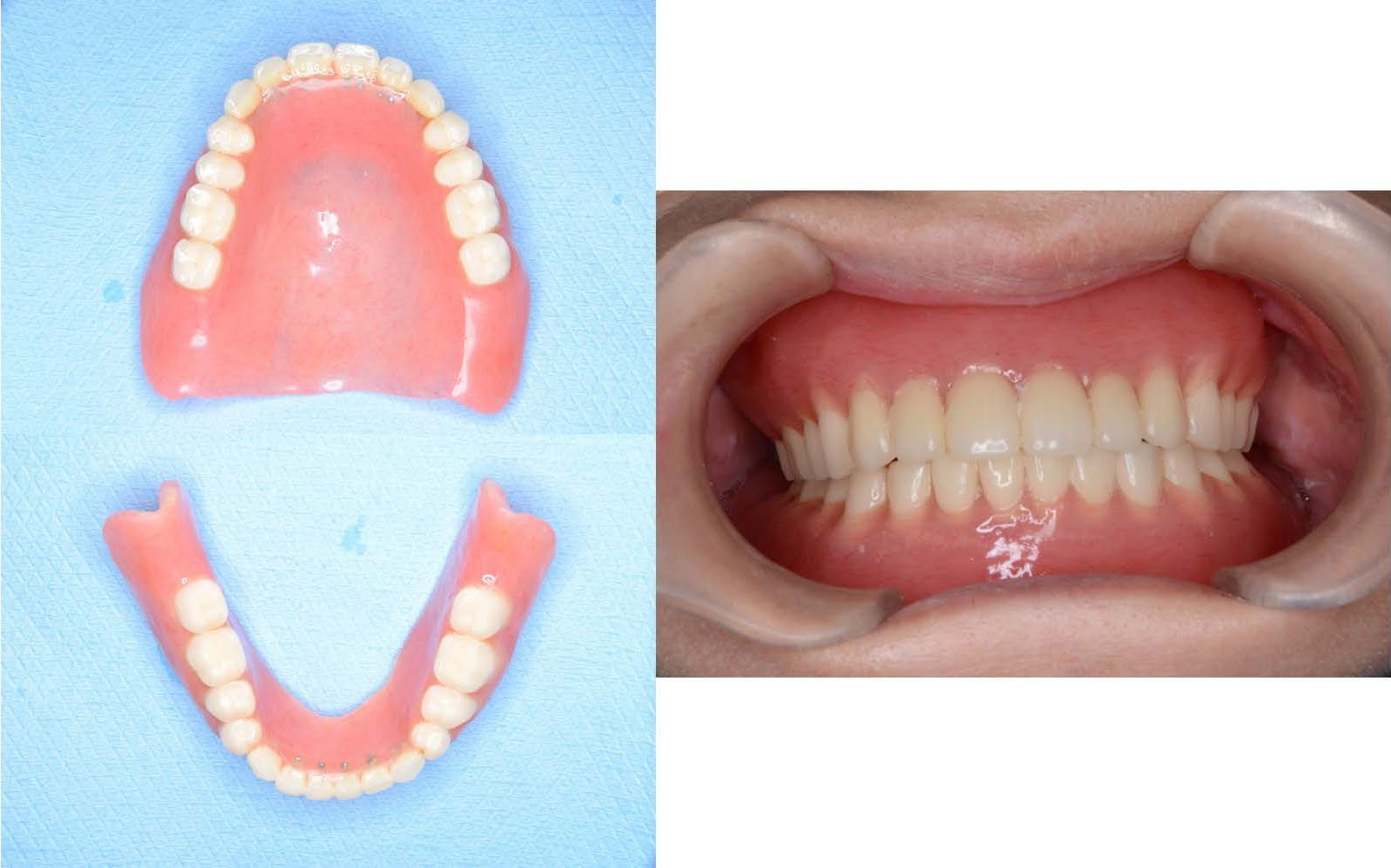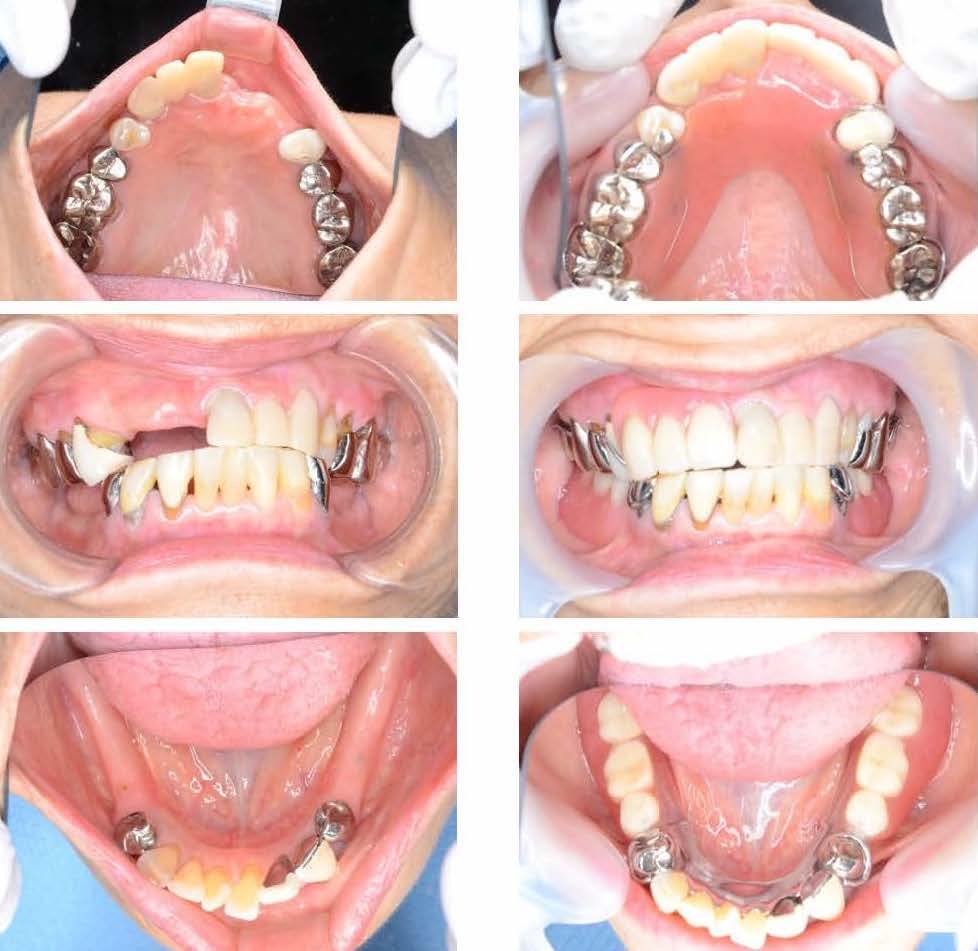 3. Bad occlusion
A crown or denture worn out by long-term use in the mouth may not only be annoying but also cause temporomandibular joint disorder due to bad occlusion. If a cracked tooth is left untreated for long time, it may become hard to know which teeth should be used for chewing. In our department, we conduct occlusal tests using various instruments. If the test results show some problem, we will stabilize the jaw and occlusion by fabricating a mouthpiece or fabricate a new crown or denture to improve the condition.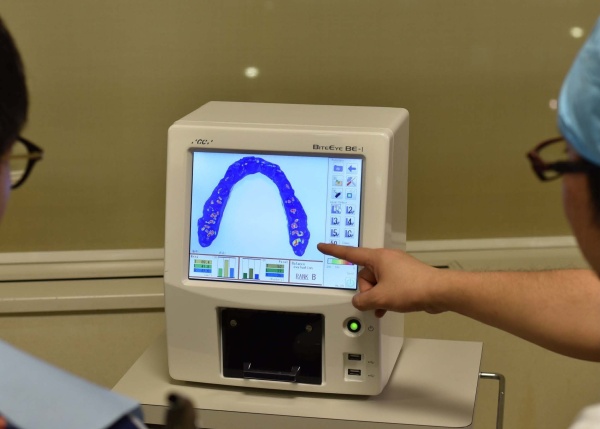 Efforts for state-of-the-art dental care
BPS denture
Licensed dentists perform examination and fabricate high-quality dentures pursuing comfortableness, esthetics, and functionality, which are completely different from previous dentures. The materials do not change for a long time and you can bite firmly.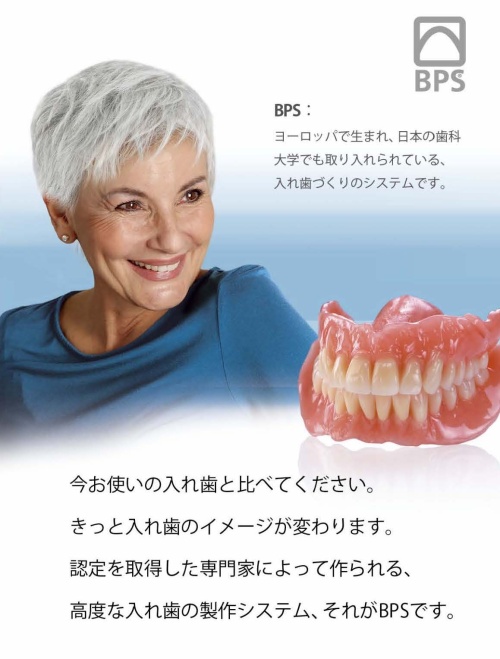 Zirconia denture/zirconia bridge
The material is extremely strong and can be used in patients who suffer from metal allergy without worry. Compared to conventional metals, this material has the advantages of having stronger biocompatibility and causing less stain.